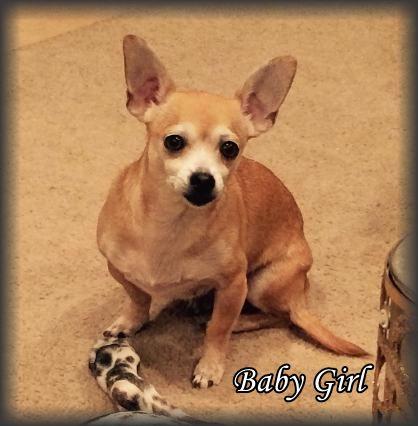 Baby Girl
Age: Adult
Gender: Female
Breed: Chihuahua
 

Description: Baby Girl has a sad story to tell. She belonged to a homeless man who lived out of his van. We first stumbled upon Baby Girl when she was in active labor, giving birth in the back of the van in a parking lot, and it wasn't her first litter. She & her pups needed refuge, so we offered to pay for medical boarding at our vet clinic for mama & her babies. We also had Baby Girl spayed once her pups were weaned. She was absolutely everything to her daddy, and he was her whole world too. They needed each other, and he promised he was in the process of getting housing. It wasn't ideal, but they clearly loved each other & we made sure he had food & supplies for her. Fast forward about 4 months....and Baby Girl was brought back to our vet clinic. Her daddy stated he was dying of cancer, and wanted to make sure his Baby GIrl was safe before he passed away. With many tears, Baby Girl was surrendered over to our rescue. 

Baby Girl has a very timid personality but is super sweet when she gets relaxed. She loves to cuddle on the couch and loves to go for walks! She is very playful when she gets going. She's quiet in her kennel and likes to hide under the blankets. She is a very happy soul who is trying very hard to move on from her past.
This is her first time experiencing a HOME. She has never been inside a house before, inside a kennel before, never had constant water and food offered, and never had a warm cozy bed to sleep in. She is experiencing all of these "normal things" for the first time and it is amazing to watch her make her way through the changes. She would do best with a quiet home without a lot of noise/activity or people coming/going. Small children would frighten her. Our ideal home for her would be with a retired couple or person looking for a companion to spoil.

Baby Girl is 4 yrs old, a purebreed Chihuahua, and weighs about 8 lbs. She is spayed, vaccinated, microchipped. Adoption fee is $300 . For adoption guidelines and to submit an application, please go to this link: http://dollyslegacyanimalrescue.org/adopt/ We are a foster-home based rescue group and do not have a facility. The first step is to have you complete our online adoption application. All adoption appointments are scheduled after your application has been approved. We are 100% volunteers & will generally reply within 3 days of application submission. PLEASE be sure to answer all questions completely or it will delay processing, be sure to include vet phone#. If you have any questions please email DollysLegacy@aol.com. Please 'LIKE' our facebook page to learn more about our rescue, see more pictures & get updates on all our adoptable pets!