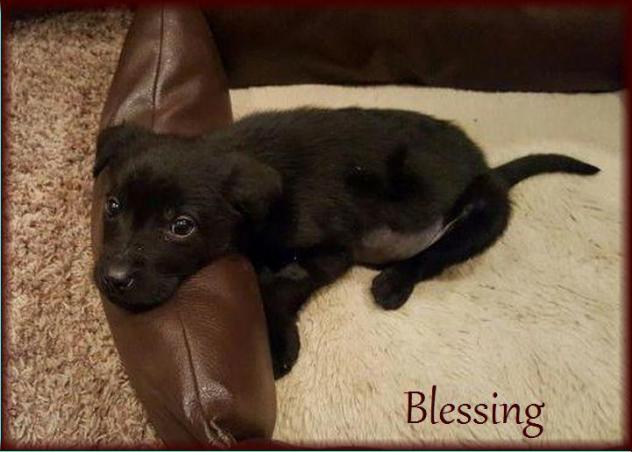 Blessing
Age: Baby
Gender: Female

 

Description:
BLESSING is a TRUE MIRACLE PUPPY!!! She is the smallest of a litter of seven we have named "The Box Puppies". A week before Christmas, seven precious puppies were found in a closed box on the side of the road, left to die in the cold. We were horrified of this news, and jumped into action to save them. The Box Puppies were flown by rescue pilots from far southeastern Missouri to Dolly's Legacy in Nebraska. Just a few days after arrival, Blessing began having trouble eating & breathing. We rushed her to Kansas State Vet School where she underwent surgery to relocate her liver, stomach, small intestines & portion of her colon from her chest cavity back to her abdomen. Blessing is doing amazingly well, we are in awe of her! She has no lasting effects and was released just 3 days after surgery. She is the spunkiest of her litter despite having such a major surgery. Blessing is very feisty & has the personality of Scrappy-Doo, always starting trouble. The most active with playtime. She has a super fun personality. Also loves to snuggle once she settles down. We are still $1700 short of the amount needed for the specialized care that saved Blessing's life. We wouldn't give up on her, and we hope you will agree she's worth it! Please, please donate to Blessing's surgery fund at this link: https://www.youcaring.com/dollys-legacy-animal-rescue-499093

Blessing is truly a miracle girl and we want to ensure that she will have a loving family who commits to her for life. Watch as she & her siblings arrive by rescue flight and take their first steps of freedom: https://youtu.be/Epkwa3wzM4Y

Blessing will be spayed at the age of 4-5 months, if adopted prior then a spay contract will be included in her adoption agreement. She is vaccinated, microchipped & dewormed. Adoption fee is $400 . For adoption guidelines and to submit an application, please go to this link: http://dollyslegacyanimalrescue.org/adopt/ We are a foster-home based rescue group and do not have a facility. The first step is to have you complete our online adoption application. All adoption appointments are scheduled after your application has been approved. We are 100% volunteers & will generally reply within 3 days of application submission. PLEASE be sure to answer all questions completely or it will delay processing, be sure to include vet phone#. If you have any questions please email DollysLegacy@aol.com. Please 'LIKE' our facebook page to learn more about our rescue, see more pictures & get updates on all our adoptable pets!