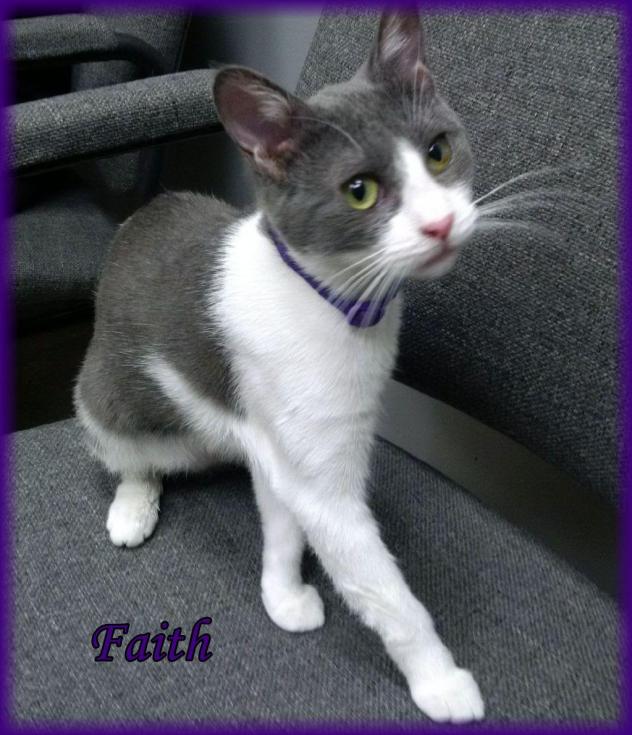 Faith
Age: Baby
Gender: Spayed Female

Options: Has Shots
 

Description: Meet FAITH! This girl is perfect! She is a petite kitten (much smaller than she looks in her photos) who LOVES to play with other pets, no matter dog or cat! She's such a snuggle-buns that her favorite position is on her back. She loves to roll over and have her tummy rubbed, then she wants to play. She would be a great addition to any family & would be happiest with other fursiblings to play with. Here's a video of her having some fun: https://youtu.be/GyPsErpgCss

Faith was rescued with 9 kittens from a farm where they were suffering from neglect & were very ill. It was reported to us that the owner was shooting them as a way of "population control". When Dolly's Legacy took them into rescue they were so sick they required hospitalization. Faye had a serious eye infection and her cornea was permanently damaged. It no longer bothers her but she will likely never have sight in her left eye. Our vet does not feel the eye needs to be removed, she is getting along just fine with it sightless. We have gotten them all the care they needed to get them well on their way to being healthy, happy kittens. They are blossoming in their foster homes, loving the attention, loving a warm place to be with full bellies. We are so glad we got to them in time before their lives were taken too soon.

FAITH was born August/Sept 2015. She is spayed, vaccinated, microchipped, given flea/tick preventative & dewormed. She is litterbox trained. Adoption fee is $100 . For adoption guidelines and to submit an application, please go to this link: http://dollyslegacyanimalrescue.org/adopt/ We are a foster-home based rescue group and do not have a facility. The first step is to have you complete our online adoption application. All adoption appointments are scheduled after your application has been approved. We are 100% volunteers & will generally reply within 3 days of application submission. PLEASE be sure to answer all questions completely or it will delay processing, be sure to include vet phone#. If you have any questions please email DollysLegacy@aol.com. Please 'LIKE' our facebook page to learn more about our rescue, see more pictures & get updates on all our adoptable pets!