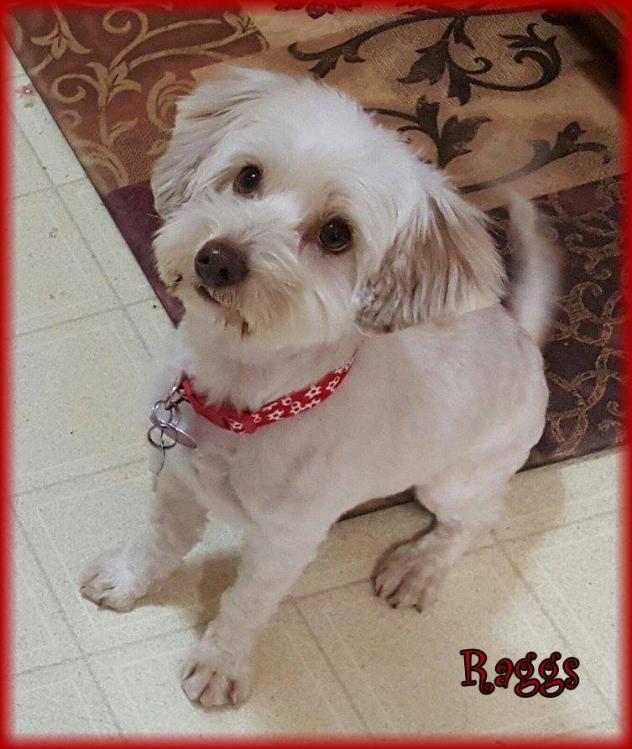 Raggs
Age: Adult
Gender: Male
Breed: Havanese
 

Description:RAGGS was found running as a stray with a cable tied to his collar. He was horribly matted, being bitten by fleas, and obviously neglected. He was taken in to the local animal control where he was never reclaimed, which is a good thing because he clearly was not being taken care of properly. His coat was so matted it was like a thick blanket as it was shaved off of him. Within 48 hrs of arriving into Dolly's Legacy Animal Rescue, he was transformed into a new dog! He's gone from rags...to riches! He is so thrilled to be feeling better, being all cleaned up, having a full belly, and lots of love & spoiling. Video link #1: https://youtu.be/29eC2pfbcRI

Raggs does great with other dogs & would love a doggy companion close to his size to pal around with. As you can see from the video here, he absolutely loves playing with his foster brother, Journey: Video Link #2: https://youtu.be/451DLVezCeI He is being fostered with 3 dogs of all sizes, a cat & a toddler. He's great with everyone.

Raggs is estimated at 2 yrs old. He appears to be a Havanese or mix of & weighs 14 lbs. Raggs is neutered, vaccinated, microchipped, given flea/tick preventative & dewormed. Adoption fee is $400. For adoption guidelines and to submit an application, please go to this link: http://dollyslegacyanimalrescue.org/adopt/ We are a foster-home based rescue group and do not have a facility. The first step is to have you complete our online adoption application. All adoption appointments are scheduled after your application has been approved. We are 100% volunteers & will generally reply within 3 days of application submission. PLEASE be sure to answer all questions completely or it will delay processing, be sure to include vet phone#. If you have any questions please email DollysLegacy@aol.com. Please 'LIKE' our facebook page to learn more about our rescue, see more pictures & get updates on all our adoptable pets!