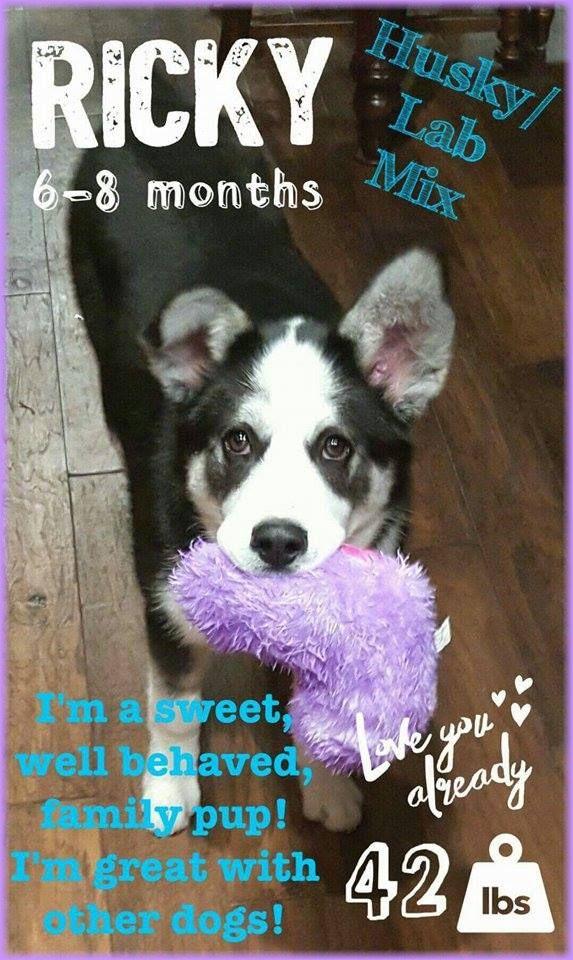 Ricky
Age: Young
Gender: Male
Breed: Husky/Lab Mix
 

Description: RICKY might just be the perfect dog! He is out-of-this-world sweet and, well......perfect if we do say ourselves! The world is his playground and he is so full of joy it just bubbles over with him. He loves absolutely everyone, thoroughly enjoys playtime with other dogs, and hasn't met a person he didn't want to love on. 

Ricky is a Husky-Labrador mix who was surrendered to a shelter when he "grew too big". Likely someone who got him as a cute puppy but wasn't committed or prepared for when he grew out of the little puppy size. Ricky is now 7 months old & weighs 45 lbs. He has the cutest ears that flop when he walks. You just can't help but love this boy!

Ricky is neutered, vaccinated & microchipped. Adoption fee is $375 . For adoption guidelines and to submit an application, please go to this link: http://dollyslegacyanimalrescue.org/adopt/ We are a foster-home based rescue group and do not have a facility. The first step is to have you complete our online adoption application. All adoption appointments are scheduled after your application has been approved. We are 100% volunteers & will generally reply within 3 days of application submission. PLEASE be sure to answer all questions completely or it will delay processing, be sure to include vet phone#. If you have any questions please email DollysLegacy@aol.com. Please 'LIKE' our facebook page to learn more about our rescue, see more pictures & get updates on all our adoptable pets!