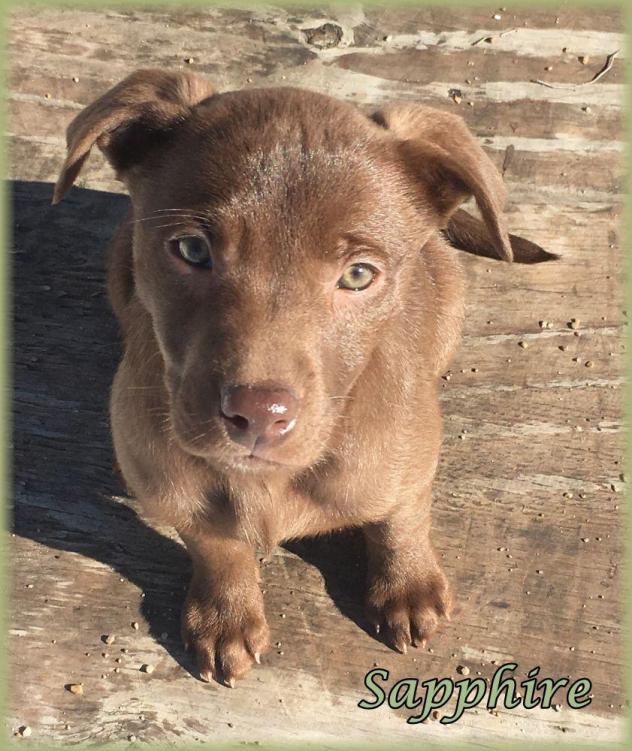 Sapphire
Age: Baby
Gender: Female
Breed: Lab Mix
 

Description: SAPPHIRE is a little gem. A combination of puppy and sweetheart, Sapphire loves to picked up and coddled. She plays great with her siblings but then sometimes, she'll stop suddenly and just sit and just watch them play. It's a cute little habit and looks like she's either studying other dog's behavior or deciding which one she wants to play with. 

Sapphire was rescued along with her 3 siblings...Slugger, Shortstop & Scarlett. They were surrendered to a rural shelter in Southeast Missouri. Dolly's Legacy came to their rescue so that we could get them the proper vetting and find forever homes. They are quite the little family, you can't help but fall in love with each of them! Check out this video of their puppy playtime: https://youtu.be/vv74YyR5Pik

Sapphire was found to have a heart murmur. It could be something she will grow out of, or it could be that at some point in her life she will need to be treated for it. We can't say for certain. She has been to two veterinarians, both agree no medical intervention for her is needed at this time. But the adopters would need to be aware she does have a medical condition that may warrant medical intervention at some point in her lifetime. She runs & plays and loves being a happy-go-lucky puppy! Sapphire is spayed, vaccinated, microchipped, given flea/tick preventative & dewormed. Adoption fee is $425 . For adoption guidelines and to submit an application, please go to this link: http://dollyslegacyanimalrescue.org/adopt/ We are a foster-home based rescue group and do not have a facility. The first step is to have you complete our online adoption application. All adoption appointments are scheduled after your application has been approved. We are 100% volunteers & will generally reply within 3 days of application submission. PLEASE be sure to answer all questions completely or it will delay processing, be sure to include vet phone#. If you have any questions please email DollysLegacy@aol.com. Please 'LIKE' our facebook page to learn more about our rescue, see more pictures & get updates on all our adoptable pets!