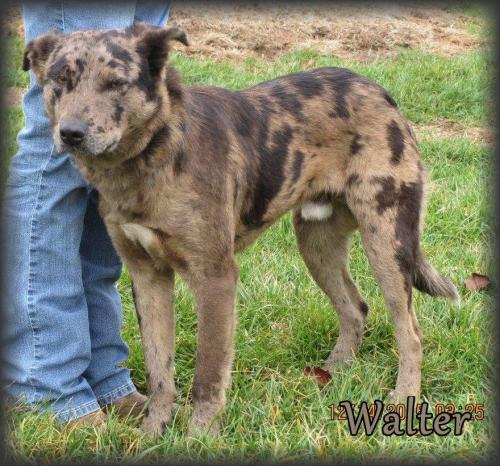 Walter
Age: Adult
Gender: Neutered Male

 

Description:Meet WALTER! He is a Catahoula Leopard Dog & true to the breed, he has a gorgeous merle coat and glowing personality. Walter weighs 45 lbs and is 1-1/2 to 2 yrs old. He was found as a stray in southern Missouri and never reclaimed. We cannot imagine someone not looking for this amazing dog who is sweet & loving. He is being fostered with big & small dogs and does great with them; he ignores cats. Walter does great with every person he has met. We want to make his new year's wish come true & find him a family who will cherish him for a lifetime!

**A NOTE FROM WALTER'S FOSTER MOM: 
In the short time that I've had Walter, I have never known a dog to be so instantly loyal. He has such a strong desire to just be near us. He gets a little excited at times, but all I ever have to do is ask him to sit, and I'll scratch his ears or rub his belly and he is in a state of calm and content. When outside, he is so beautiful to watch because he runs and jumps like the nothing I've ever seen. His coat is beautiful and soft with very minimal shedding. I have become on expert on this because Walter is such a cuddler. He will lay on me for as long as I will let him, and I've never noticed hair left behind. You just want to hold him because you can sense the peace it brings him to be near his owners. He is friendly to everyone who has entered our home. He is an athletic breed and needs room to run outside, but a big bone and the presences of his owners in the room seems to be enough for him when he is indoors. **

Walter is neutered, vaccinated, microchipped, given flea/tick preventative & dewormed. He is heartworm negative. Adoption fee is $300 to help defray the costs of his vetting. For adoption guidelines and to submit an application, please go to this link: http://dollyslegacyanimalrescue.org/adopt/ We are a foster-home based rescue group and do not have a facility. The first step is to have you complete our online adoption application. All adoption appointments are scheduled after your application has been approved. We are 100% volunteers & will generally reply within 3 days of application submission. PLEASE be sure to answer all questions completely or it will delay processing, be sure to include vet phone#. If you have any questions please email DollysLegacy@aol.com. Please 'LIKE' our facebook page to learn more about our rescue, see more pictures & get updates on all our adoptable pets!